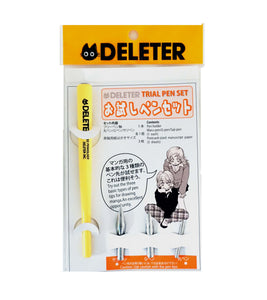 Deleter
Deleter Trial Pen Set
This is a great set for those starting out their manga journey. 
This set contains a Deleter pen holder, three nibs, and three postcard sized comic book paper sheets. Ink is not included. For beginners we recommend Deleter Black Ink 1, which is sold separately. 
The included nibs are the Maru Pen Nib, the G Pen Nib, and the Saji Pen nib. 
The Maru nib is great for fine lines, the G Pen nib is the easiest to use, and is versatile enough to use for thick and thin lines and the Saji nib has a hard tip that draws uniform, smooth lines. 
---